Welcome
Welcome to my web site, my name is Dan Burfoot. I am a data scientist, software engineer, and philosopher of science.
I recently finished a philosophical essay that I'm quite happy about. This essay is partly an analysis of recent trends in NLP and ML, partly a summarized version of my book, and partly an attempt to create interest in some new topics in ML. You can read it here.
In May of 2019 I started working full-time at LinkedIn. Transitioning from the consulting/research world to the corporate employment world has been challenging, but I am optimistic. I am on a team called Standardization, whose mission is to make sense of all the unstructured data that people put into their profiles. It's a good fit with the work in data engineering and machine learning that I've been doing in the past.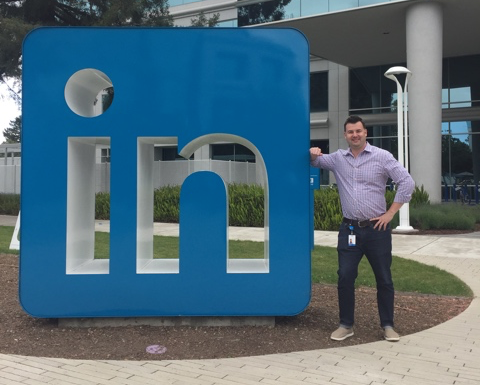 In 2018 I started doing part-time consulting work through TopTal, which is a freelancing agency that screens the candidates before allowing them into the system (they also seem to do a good job of vetting potential clients). Through TopTal, I found a fun NLP project at CargoChief, a startup whose goal is to "digitize freight".
For several years I have been practicing public speaking through Toastmasters. I started at Harvard Toastmasters and then joined Berkeley Entrepreneurial Toastmasters when I moved to the West Coast. Toastmasters has been a great experience for me: it is both beneficial - the program really does help you improve at speaking - and enjoyable. I am now the president of the Berkeley club.
I recently started a blog, where I discuss various topics that come up in my research. If you are interested in topics at the intersection of natural language processing, linguistics, machine learning, and information theory, check it out!
In February 2017, I moved from Cambridge to Berkeley, California. Californians should thank me and Heather for using the power of Murphy's Law to end the drought: immediately after we moved to Berkeley, it rained nonstop for about 3 weeks. Boston/Cambridge friends: I was very sad to leave you all, please get in touch if you are ever in the area!
My company Ozora Research LLC has a web page now. (does the design look familiar?) Ozora is a research and consulting company, whose goal is to commercialize my research on Natural Language Processing. In the early stages, we will focus primarily on consulting work, in technology areas that are near our core competency of Big Data, NLP, Machine Learning, Cloud Computing (AWS), DB design, and Java-based software engineering. Let me know if you are interested in hiring us for consulting work!
As of May 2015, I am working full-time on my research in text compression and deep language modeling. This research has yielded many interesting insights so far, with hopefully many more to come in the future. I have a very rudimentary ("alpha") version of my system available online, you can see it here.
In May 2013 I cut back to part-time work at Digilant so I could have more time to devote to my research on text compression. This research is the practical application of the philosophy I described in my book.
In June 2013, I was an invited speaker at a workshop on Ground Truth at CVPR 2013, in Portland, Oregon. My talk was about how to apply the ideas from my book to the field of computer vision. Specifically, almost all computer vision tasks can be reformulated as specialized image compression techniques, and this reformulation will provide the field with a much more powerful evaluation methodology than the one it now utilizes. My Google Doc slides for the talk can be viewed online here.
In June of 2011 I started a new job as a large-scale statistical analyst at Digilant (formerly Adnetik). Digilant's goal is to provide smarter tools to allow online advertisers to get more value for their money by finding the best possible audience and placing their messages on the most relevant possible pages.
Before starting at Adnetik, I worked as a freelance software developer and wrote a book about the philosophical foundations of artificial intelligence. A solid first draft of the book is now complete, and I am now looking for feedback from readers. If you have any interest in machine learning, computer vision, computational linguistics, or the philosophy and history of science, I would love to hear your opinions. I will even compensate you with free coffee and/or beer!
Over the last year or so my father (running guru Amby Burfoot) and I built an online training program called SmartCoachPlus. This web tool creates a training schedule, including workout distances and paces, that is customized for each user. If you want to run a marathon, but don't know how to train properly, then SmartCoachPlus is the tool for you! The application launched in early January 2011, and as of July 2011 has over 1,000 paid subscribers and 10,000 free uers. You can view it online by clicking here (requires free registration).
I am interested in small side projects that involve machine learning, data mining, computer vision, or natural language processing. If you have such a project, please get in touch! Here is my resume.
I obtained my PhD in March of 2010, in the field of machine learning, with a thesis entitled "Statistical Modeling as a Search for Randomness Deficiencies". I was a student at the University of Tokyo in the Intelligent Systems and Informatics lab, under the supervision of Prof Yasuo Kuniyoshi. Read more about my thesis.
While I was at the ISI Lab, I shared a lab space with this robot: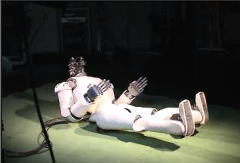 Before going to Japan in 2006, I obtained an MSc degree in computer science, at McGill University in beautiful Montreal, Quebec. My supervisors were Joelle Pineau and Greg Dudek. McGill is a great place, as can be seen in this picture: